Aussiechon Breed Information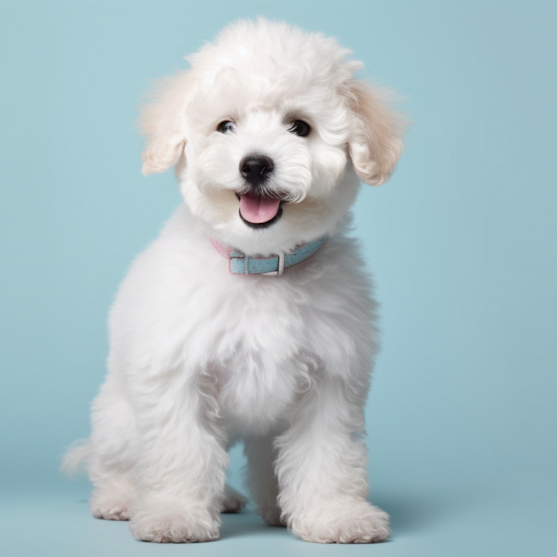 A lively and charismatic little dog, the Aussiechon comes with a never-ending supply of joy and love for its forever family. If you crave sincere puppy love, cuddles, and a cute partner for adventures, the Aussiechon is the perfect dog for you. These stunning pups are all about love and adventures. They thrive in a fun and loving environment and are entirely devoted to making their owners happy. As lovers of all things fun, Aussiechons make excellent little jogging partners, comical entertainers, and ideal play mates for children. The adorable Aussiechon puppies are a mix of a Mini Australian Shepherd and a Bichon Frise. 
BREED TYPE / MIX Hybrid / Mini Australian Shepherd crossed with Bichon Frise ENERGY Moderate SHEDDING Minimum TRAINING Responsive TEMPERAMENT Affectionate, Clever, Charming, Playful ADULT WEIGHT 8-20 lbs ADULT HEIGHT 10-18 in LIFE SPAN 12-15 yrs
Characteristics
One of the most adored designer dogs in the world, the Aussiechon impresses with fabulous looks, a delightful personality, and excellent skills in learning 
The Aussiechon is also referred to as the Mini Aussie Bichon 
Aussiechons are not seasonal shedders. They shed very little, if at all, and have excellent hypoallergenic qualities 
Highly social and as friendly as can be, Aussiechons are quick to bond with everyone they meet. They enjoy interacting with other fur babies and are openly friendly towards strangers 
Aussiechon puppies are highly intelligent and easy to train. They are quick to learn and they love pleasing their owners 
Passionate about outdoor adventures, the Aussiechon makes a most wonderful hiking companion 
Aussiechon puppies have an adaptable nature. Although they are moderately active as a breed, they can adapt to both active and relaxed environments as well as to small or roomy living quarters 
Affectionate, loyal, and a joy to have around, the Aussiechon is a great fit for singles, retirees, senior citizens, couples, and families with children 
As a mix between two naturally well-behaved dogs, the Aussiechon lacks destructive behavior and aggression 
Appearance
Aussiechons are small and charming dogs that always seem to be in a happy mood. They carry themselves in a confident manner and appear friendly and warm. Because they are a blend of two different-looking breeds, the appearance between Aussiechon dogs may differ slightly.  
As a small breed, Aussiechons may grow up to 10 – 18 inches tall and weigh between 8 and 20 pounds when fully grown. Taking into account their individual diets and exercise routines, the Aussiechon size may be on either end of the scale. 
Aussiechons have an athletic build, their bodies being well-proportioned and compact. They have a medium-sized muzzle, an adorable diamond nose, and cute floppy ears that hang on the side. The Aussiechon eyes are almond-shaped and can come in shades of brown, black, and blue.  
Their coats are fluffy and soft and of a straight to wavy texture. Aussiechon colors include solid-colored coats or combinations of two or more of the following: white, black, tan, brown, merle, red, and apricot.  
Temperament
Aussiechons are sweet, even-tempered dogs that display composure during any situation. They are not prone to any type of aggressive behavior, snappiness, or shyness. As precious dogs that crave cuddles, belly rubs, and petting, Aussiechons are comfortable with being handled. Their nature is sweet, their temperament calm, and their disposition joyful.  
As part Mini Aussie and part Bichon Frise, the lively Aussiechons have a strong drive towards adventures, exploration, and outdoor fun. They are enthusiastic about meeting and playing with their fellow dog friends and they are big fans of taking part in family games. Although they are not built to take on trekking or long runs, they do enjoy the occasional jog routine, hike, and friendly chase. Games like find-the-treat, hide-and-seek, and ball-fetching are among their favorite activities.  
As sweet-natured and friendly dogs, Aussiechons thrive in a household with multiple pets, people, or children. They are neither jealous nor snappy, and they gladly share their toys. These small, adorable dogs are known for their affection outbursts and cute performances. They enjoy putting on a show with fun tricks and stunts and are quite happy to be the center of attention.  
Care
Aussiechon Grooming
Aussiechons are a moderate to low-maintenance breed that require one thorough brushing every week. Because they do not shed very much brushing becomes essential to keep their hair from matting or getting tangled. A monthly bath with shampoo specifically designed for dogs is also recommended for a clean skin and a shiny coat. Their ears should be checked and cleaned regularly to avoid any dust deposits or ear infections. If Aussiechons don't file their nails down naturally, they should be clipped after every monthly bath. Aussiechons should also have their teeth brushed at home frequently and, if possible, taken for a professional dental care every few months. 
Aussiechon Exercise Needs
As a moderately active breed, Aussiechons don't have high exercise requirements. Although they crave the occasional run and high intensity workout, they do best with a daily routine of 2 or 3 walks and some active games indoors. Aussiechons are very adaptable dogs which means that they can adapt to a more laid-back environment and less daily exercise. That being said, it is more beneficial for their health to have at least one or two daily walks.  
Aussiechon Training
Aussiechon puppies are just as smart as they are adorable. They love being taught new tricks and are quite fond of having their trainer's complete attention. These Einstein puppies strive for more serious challenges after they learn their basic obedience commands, so it is best to keep them motivated and engaged with various games and challenges. 
Socializing naturally friendly dogs like the Aussiechons should be effortless. They should, however, be introduced to various sounds, places, and certain distractions early on to help them become more comfortable during away-from-home outings.  
Because they are tiny and precious, Aussiechons are often overly spoiled by their owners, which leads them to become more stubborn and less inclined to learn or pay attention. Their nature is easygoing and obedient, but spoiling is sure to change that so it is best avoided.  
History
Aussiechons, or as some like to call them, Mini Aussie Bichons are magnificent designer dogs that originate from the United States. Half Miniature Australian Shepherd and half Bichon Frise, these fashionable designer dogs were created to inherit features, personality traits, and skills from both of their parents in equal measure. These small dogs are very smart, affectionate, happy, and truly gorgeous in appearance. They take after their Bichon parent in both adorable behavior and friendliness, and after their Aussie parent in loyalty and intelligence.  
As their precious looks and delightful personalities became known in the world, Aussiechon popularity skyrocketed. Quickly spreading from one country to another, these beautiful dogs came to be known as the latest fashion icons in the fashion capitals of the world. They are popular in Paris, France, Milan, and New York.  
Aussiechons are very young as a breed, having been around for a little over two decades. They were first introduced to the world in 2000 and have since enjoyed a fantastic reputation as one of the most popular designer dogs in the world. Although their history is quite recent, we can find out more about what these dogs are like by learning more about their parents. 
The Miniature Australian Shepherd, who is recognized by the American Kennel Club as the Miniature American Shepherd, is the favorite dog breed of Western Americans. Cowboys, rodeo fans and riders, and country folks love this little dog for its strong loyalty, keen intelligence, and remarkable skills in herding. The Mini Aussie world is a happy one. These dogs are actors in western movies, stunt artists in rodeo festivals, champions in dog sports, and loved companion pets. Because they possess sought-after dog qualities, the Mini Aussies were a top pick for the Aussiechon mix. 
The Bichon Frise, a little white dog with curly hair, a button nose, and a great deal of love to give, is an obvious pick for the Aussiechon mix. Bichons don't shed and are a perfect fit for owners that suffer from pet-related allergies. Apart from their hypoallergenic qualities and truly beautiful appearance, these little white dogs have an endearing behavior and a cuddly nature. They originate from Tenerife in the Canary Islands and have been around for quite a few centuries. Bichons moved around from one royal palace to the next for many centuries, always acting as the favorite pet of kings and queens. Today, they are regarded as one of the most precious small dog breeds in the world.