PHOTOS FROM OUR CUSTOMERS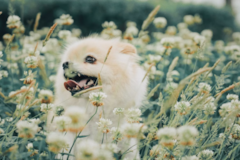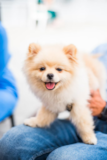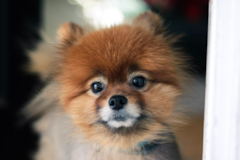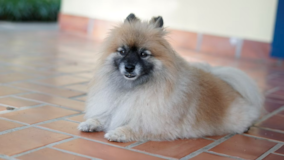 Pomeranian puppies for sale | Puerto Rico On-the-spot Adoption - Islandwide Delivery
Alert ~ Cheerful ~ Friendly ~ Intelligent ~ Playful
Puppy Love PR is the best place to find cute Pomeranian puppies to adopt. The Pomeranian is one of the most loving dog breeds in the world. These puppies are highly affectionate, charming, and playful dogs that adore their owners beyond measure. The Pomeranian teddy bear puppies adore being part of a family but are also independent dogs. They love to be involved in everything that is going on in the house and are always happy to follow in their owner's footsteps. Pomeranian puppies are very intelligent and energetic, so they need plenty of stimulation as well as time outside to run around and play.
Read more
BREED INFORMATION
POMERANIAN
---
Temperament

Alert, Cheerful, Friendly, Intelligent, Playful

Adult Weight
4-7 lbs
Adult Height
8-11 in
Life Expectancy
12-16 yrs
Rating

5.0

( reviews)
| | |
| --- | --- |
| Maintenance | |
| Training | |
| Shedding | |
| Adaptability | |
| Active | |
Pomeranian puppies for sale - Puerto Rico On-the-spot Adoption / Islandwide Delivery
The Pomeranian is an inquisitive, bold, and lively small breed. This breed has been called the ideal companion with its glorious coat, foxy face and vivacious personality. All of these qualities have helped make the "Pom" one of the world's most popular toy breeds.

The Pomeranian is named for Pomerania, the area of northeastern Europe and is a descendent of the German Spitz breed. Originally this breed was bigger and actually used to herd sheep. In the 1800s when it became popular in England, its size was reduced and the fur grew more and became the small toy breed we now know. In 1888 the Pom was first recognized by the AKC and was considered a watchdog, and excelled at agility and performing tricks.

The Pom is a compact and short backed, active toy breed. It has a double coat and a short dense undercoat. The heavily plumed tail is one of the defining characteristics of this breed. It is set high and lies flat on the back. The coat is bigger around the chest and neck area and can have a variety of coat colors such as: red, orange, white, cream, blue, brown and black and tan. The Pomeranian is commanding and cocky as he gaits.

This breeds profuse double coat is one of the most distinguishing features and frequent brushing is necessary to maintain this beautiful coat. Since Poms are active dogs, it is important to keep their nails trimmed short. It is highly recommended to get a full groom done every four to six weeks. Also, pay close attention to the Poms teeth and brush them regularly during grooming sessions.

Socialization is needed with any Pomeranian to encourage an affectionate and docile personality. It is playful and energetic with children and strangers but often carries a loud bark that can become aggressive if not trained properly. Training to walk on a leash should begin early on and taught to come when called. Housebreaking may be a challenge, so patience and consistency is key. Poms can injure joints and break bones easily so it is important to keep them from jumping off of high furniture. This breed is highly intelligent and will enjoy work as a therapy dog.

Pomeranians require a daily walk and play is good for apartment living. This breed is active indoor, but when outside needs to be protected from heat and harsh weather conditions. The Pom is generally healthy but may be prone to dislocated patella, heart problems, eye infections and skin irritations. Dental care is important as well, and should be kept maintained. With proper care this breed can live up to 15 long and happy years with its beloved owner.