PHOTOS FROM OUR CUSTOMERS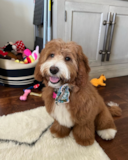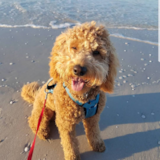 Mini Goldendoodle puppies for sale | On-the-spot Adoption in San Juan, Puerto Rico - Islandwide Shipping
Affectionate ~ Intelligent ~ Loving ~ Social
Cute Mini Goldendoodle puppies for sale at Puppy Love PR. Our gorgeous Mini Goldendoodle puppies are a doodle breed mix of a Golden Retriever crossed with a Miniature Poodle. Mini Goldendoodle puppies inherit all the wonderful qualities their parents are known and loved for. They are highly intelligent, loyal, playful, and very friendly. These puppies train well whether their trainer is a new or experienced owner. They also have a stunning appearance that blends the loveliest features of Poodles and Golden Retrievers.
Read more
BREED INFORMATION
MINI GOLDENDOODLE
---
Temperament

Affectionate, Intelligent, Loving, Social

Adult Weight
F1B: 20-35 lbs/F1: 25-45 lbs
Adult Height
13-22 in
Life Expectancy
10-14 yrs
Rating

5.0

( reviews)
| | |
| --- | --- |
| Maintenance | |
| Training | |
| Shedding | |
| Adaptability | |
| Active | |
Los Mini Goldendoodle están fantásticamente equipados cuando se trata de cualidades. Habiendo heredado la agilidad y la inteligencia del Poodle, la naturaleza dulce y leal del Golden Retriever y la apariencia tierna de ambas razas progenitoras, convierte al Mini Goldendoodle como un perro de terapia.
Apariencia y aseo:
De apariencia pequeña, con ojos redondos brillantes, nariz de botón oscuro y orejas largas y caídas, con un peso promedio de entre 20 y 35 libras para los Mini Goldendoodles F1B, mientras que los Mini Goldendoodles F1 pesan entre 25 y 45 libras y tienen una altura promedio de entre 13 y 22 pulgadas. Su pelaje es hermoso y sus colores pueden variar bastante en apariencia y textura, así como de corto a largo y de liso a ondulado o rizado. Es una raza híbrida de diseño bastante nueva y muy buscada que se presenta con distintos cruces: un cruce entre un Golden Retriever puro y unToy Poodle crean los Mini Goldendoodle F1. Una mezcla entre un Mini Goldendoodle F1 y un Toy Poodle crean un Mini Goldendoodle F1B. También un cruce entre dos Mini Goldendoodle F1 crean un F2 Mini Goldendoodle.
Temperamento:
Su gentileza, amabilidad y paciencia, su carácter empático, dulce y cariñoso, su inteligencia y su comportamiento alegre son cualidades que hacen de los Goldendoodles Miniatura los mejores perros de servicio, los mejores perros de apoyo emocional y los mejores perros de terapia. Estos perros son muy inteligentes, les encanta que lo estimulen mentalmente y aprender nuevos trucos, es fácil de entrenar; lo que lo convierte en un gran candidato para los que son dueños de mascotas por primera vez. Cariñoso, gentil y juguetón, el Mini Goldendoodle es fantástico con niños de todas las edades y le encanta entretener con trucos. Sociable, extrovertido y con una naturaleza amigable, se convertirá rápidamente en amigo de todos los que conozca. Los Goldendoodles miniatura son perros valientes, curiosos y enérgicos, tienen un gran amor por el agua, aman los juegos y la naturaleza, y son excelentes compañeros de ''hiking''.
Ejercicio
Al ser un perro más pequeño, no requieren tanto ejercicio. Esto no quiere decir que estos perros no tengan su parte justa de personalidades enérgicas y, a menudo, se aburrirán si no hacen ejercicio con regularidad. Una caminata de 20 a 30 minutos, dos veces al día, y un poco de tiempo de juego adicional seguramente quemará algo de energía. Además de los juegos de buscar y perseguir, a estos adorables perritos también les encanta nadar.
Entrenamiento y socialización
La influencia de las razas parentales da como resultado un perro al que le encanta aprender y está ansioso por complacer a su dueño. Son conocidos por formar un fuerte vínculo con su dueño durante la fase de entrenamiento, lo que puede provocar ansiedad por separación, por lo que, además de llevarlos a pasear para fomentar la socialización, asegúrese de dejar a su cachorro solo en casa por un rato para comenzar a eliminar su miedo. Las sesiones de entrenamiento consistentes, divertidas y cortas harán que esta raza sea fácil de entrenar.
Mini Goldendoodle Reviews