PHOTOS FROM OUR CUSTOMERS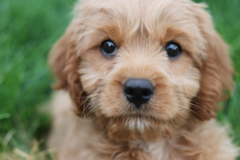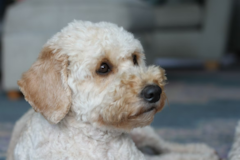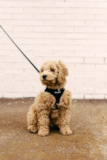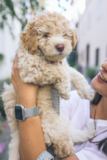 Cockapoo puppies for sale | Designer breed puppies for sale in Puerto Rico
Outgoing ~ Intelligent ~ Friendly ~ Loving ~ Active
Cockapoos are the stuff of fairy tales. These fantastic little puppies provide years of companionship, loyalty, and love. Having a Cockapoo in your life guarantees you'll always have a friend to rely on and a comedian to make you giggle. These sweet Cockapoo doodles are excellent at having fun, especially if hikes and dog games are involved. They love adventures and they never fail to impress with their lively personalities. A mix between a Cocker Spaniel and a Mini Poodle, the Cockapoo puppy possesses impressive intelligence, exquisite looks, and a most affectionate nature.
Read more
BREED INFORMATION
COCKAPOO
---
Temperament

Outgoing, Intelligent, Friendly, Loving, Active

Adult Weight
12-25 lbs
Adult Height
10-15 in
Life Expectancy
13-16 yrs
Rating

5.0

( reviews)
| | |
| --- | --- |
| Maintenance | |
| Training | |
| Shedding | |
| Adaptability | |
| Active | |
Apariencia y aseo
El Cockapoo hereda el pelaje hipoalergénico del Poodle. Cepillar su pelaje una vez al día es la mejor manera de asegurarse de que tanto el perro como su hogar se mantengan limpios. Sus pelajes suaves pueden variar de lisos a ligeramente rizados u ondulados. Debido a que estos perros tienen pelo en lugar de ''fur'', necesitan ser ''groomed'' con regularidad. Cuando se trata de opciones de color, considerando que tanto el Cocker Spaniel como el Poodle vienen en una amplia gama de colores de pelaje, el Cockapoo viene con el mismo amplio espectro de colores y combinaciones de colores.
Temperamento
Conocidos por su extremo afecto y sociabilidad, estos perros tienen una personalidad alegre y amistosa. Adoptan bien el entrenamiento, aprenden rápido y están ansiosos por complacer a su dueño. Por otro lado, si no se les muestras el amor y la atención que necesitan, se sabe que se aburren y muestran un comportamiento destructivo.
Familia
Llenos de amor y energía positiva, el cockapoo es perfecto para cualquiera que busque compañía. Como perro de compañía, el Cockapoo es el complemento perfecto para cualquiera que busque un perro agradable y tranquilo. Les encanta correr y jugar tanto como descansar en el sofá a tu lado. Son extremadamente aptos para familias, para personas mayores y funcionan muy bien entre los niños de cualquier edad.
Ejercicio
Tu nuevo perrito necesitará disfrutar de paseos diarios y sesiones de juego breves. Buscar o permitir que el perro corra y queme su energía lo mantendrá no solo feliz, sino también saludable y en excelente forma. Por lo tanto, deberá dedicar aproximadamente media hora a su perro todos los días, llevarlo a caminar, jugar con él y asegurarse de que tenga la actividad física que necesita.
Entrenamiento y socialización
Su alta inteligencia y su deseo de complacer a sus dueños se combinan para crear una raza que sobresale en el entrenamiento. Es importante asegurarse de que su formación se inicie a una edad temprana y se realice un seguimiento para garantizar que los problemas de conducta no se presenten durante la adolescencia. Debido a que estos cachorros siempre están ansiosos por complacer, muestran mucha sensibilidad a los regaños. Cualquier interacción negativa puede afectar en gran medida el estado de ánimo y el desarrollo de su pequeño cachorro. Esta raza sobresale en el entrenamiento de agilidad y la resolución de acertijos, por lo que se recomienda asegurarse de que su régimen incluya estas actividades para un perrito saludable y feliz.