PHOTOS FROM OUR CUSTOMERS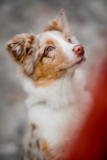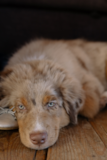 Mini Aussies puppies for sale | Miniature Australian Shepherd in San Juan, Puerto Rico
Loving ~ Energetic ~ Intelligent ~ Loyal ~ Outgoing
The Mini Aussiedoodle puppy is a crossbreed dog that is a mix of the Mini Australian Shepherd and the Mini Poodle. The Mini Aussiedoodle is an excellent family pet that loves playing with kids and other pets in the household. These dogs also have an easy temperament, which makes them great for first-time puppy owners or those looking for a low-maintenance pet. Mini Aussiedoodles are small, energetic dogs that do well with active owners. Browse our available puppies and adopt a Mini Aussiedoodle at Puppy Love PR today.
Read more
BREED INFORMATION
MINI AUSSIEDOODLE
---
Temperament

Loving, Energetic, Intelligent, Loyal, Outgoing

Adult Weight
8-25 lbs
Adult Height
12-18 in
Life Expectancy
12-15 yrs
Rating

5.0

( reviews)
| | |
| --- | --- |
| Maintenance | |
| Training | |
| Shedding | |
| Adaptability | |
| Active | |
Temperamento:
Los Mini Aussiedoodles son perros extremadamente brillantes y ágiles; su naturaleza valiente y leal junto con sus coloridas personalidades los han convertido en una de las razas híbridas de diseñador más populares. Inteligente, curioso y ansioso por complacer, el Aussiedoodle es muy fácil de entrenar, ama la estimulación mental y siempre está emocionado de aprender nuevos trucos que puede usar para impresionar más tarde. Su inteligencia excepcional y su capacidad y ganas de aprender, ha llevado a muchos a creer que no hay nada que un Mini Aussiepoo no pueda hacer cuando se trata de entrenar. El Mini Aussiedoodle es un perro muy activo con un espíritu aventurero y un gran amor por los juegos, los deportes caninos y cualquier actividad al aire libre (desde la natación hasta el''hicking''). Es un perro leal, gentil y cariñoso y todo lo que recibe, lo devuelve diez veces más. Genial con otras mascotas, extraños y niños de todas las edades, gentil, cariñoso y disciplinado, es un excelente compañero para los dueños de mascotas por primera vez. Los Mini Aussiedoodles son activos y deportivos, a su vez son tranquilos y cariñosos.
Apariencia y aseo
Con orejas que cuelgan, pequeños ojos negros en forma de almendra, y un hocico de tamaño mediano como el del Pastor Australiano y su pelaje liso a rizado, suave y sedoso como el del Poodle, hacen de este perrito la mezcla perfecta de ambas razas parentales. Su pelaje incluye los colores blanco, azul, negro, amarillo, marrón, rojo, plateado y gris. Se recomienda cepillar su pelaje de 2 a 3 veces por semana, así como viajes regulares al ''grooming'' para mantener su pelaje limpio y sus uñas recortadas.
Familia y compañerismo
Un compañero perfecto, este perro leal y cariñoso será una excelente adición a la familia. Con fuertes rasgos de adaptabilidad y afecto, su nuevo perrito seguramente se llevará bien con los niños y otras mascotas. Debido a su naturaleza amigable, no es una buena idea traer uno de estos a su hogar como perro guardián, sino más bien como miembro de la familia.
Ejercicio
Con su fuerte deseo de jugar y su gran curiosidad, su nuevo compañero necesitará hacer ejercicio durante el día y la oportunidad de correr y mostrar sus talentos de agilidad. Una recomendación de dos caminatas al día con un poco de tiempo de juego en el patio debería ser suficiente para mantenerlos saludables y felices. Debido a su naturaleza curiosa y la necesidad de socializar, asegúrese de vigilar y atar a su cachorro en todo momento cuando esté en áreas sociales y reuniones.
Entrenamiento y socialización
Considerado un perro extremadamente brillante que está ansioso por complacer, escucha y obedece bien las órdenes, lo que hace que el entrenamiento sea una tarea bastante fácil. Practicar la paciencia con refuerzo positivo y un enfoque de entrenamiento basado en recompensas seguramente lo recompensará con una relación larga, feliz y saludable con su perro. Al igual que con el entrenamiento, se recomienda la socialización temprana, ya que ayudará a que brille la personalidad sociable de sus cachorros.
Mini Aussiedoodle Reviews