PHOTOS FROM OUR CUSTOMERS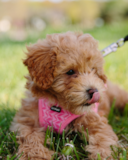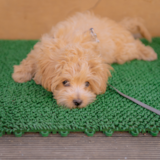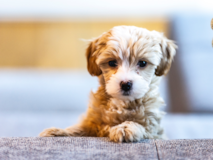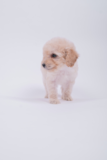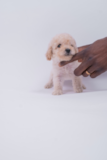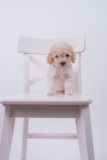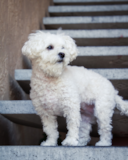 Mixed Maltipoo puppies for sale | Cute, New Maltipoo Puppies Have Arrived!
Affectionate ~ Energetic ~ Gentle ~ Intelligent ~ Loving
Our Maltipoo puppies for sale are a stunning crossbreed of a purebred Maltese and a purebred Miniature Poodle. These cute puppies are cheerful, smart, playful, and big fans of cuddles. Given the remarkable set of qualities they inherit from their parents, the Maltipoo puppies are sure to impress you with their receptiveness to training, upbeat personality, and loving nature. Maltipoo puppies grow into well-balanced adult dogs that are naturally friendly and affectionate. They get along well with other household pets, and are fond of being part of a family with children.
Read more
BREED INFORMATION
MALTIPOO
---
Temperament

Affectionate, Energetic, Gentle, Intelligent, Loving

Adult Weight
5-10 lbs
Adult Height
9-12 in
Life Expectancy
10-14 yrs
Rating

5.0

( reviews)
| | |
| --- | --- |
| Maintenance | |
| Training | |
| Shedding | |
| Adaptability | |
| Active | |
MaltiPoo puppies for sale - On-the-spot Adoption in Puerto Rico / Shipping Across the Island
The Maltipoo is a designer breed who is crossed between a Maltese and a Poodle. This breed is joyful, and affectionate towards its owners. The size of the Maltipoo can vary depending on the genes, but can typically weigh around 5 to 20 pounds and can be 8 to 14 inches tall. It has very minimal shedding and its coat is soft, fluffy and feels like wool. It can be a variety of colors such as, cream, silver or white.

Brushing and grooming for this puppy is a requirement to keep it clean and maintain a healthy coat. Trimming the coat a few times a year will ensure it stays maintained. A special shampoo should be used to prevent degradation of its coat. Their ears should be cleaned to keep out dirt and prevent common ear infections. It is important to start the grooming process young so the puppy can get use to having its nails trimmed, its teeth clean and become familiar to the bathing process, which will make grooming much easier as an adult.

The Maltipoo is social and fun loving, and is definitely devoted to its owner. Play sessions or observing its family will be one of its favorite past times. Socialize the puppy at a early age so it can be adapted to different people, strange situations and pets. Because of its intelligent genes from the Poodle, this breed is very sweet and easy to train. Positive reinforcement is key with this breed as a puppy to encourage them to do the tricks or good behavior you need them to do. Using food rewards or praise will be very helpful when potty training.

This puppy is designed for indoor life, but still requires walks and regular play in order to stay healthy. Because of the excess energy the Maltipoo has, it may result in destructive behavior if it does not have enough activity. This puppy is a very sensitive breed and it is not meant to be left alone for long periods of time as it is sensitive and it may develop separation anxiety.

A high quality dog food is necessary to keep this puppy properly nourished. Create a feeding schedule and proper portions to prevent cases of obesity. It is recommended to feed your Maltipoo two meals a day with dry kibble to avoid tooth and gum diseases. The Maltipoo is usually a healthy breed, but it may be prone to patellar luxation, progressive retinal atrophy, and White Shaker Syndrome. If it is properly cared for, then it is likely that the Maltipoo breed could live up to 13 years!