PHOTOS FROM OUR CUSTOMERS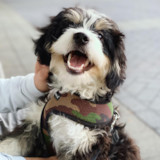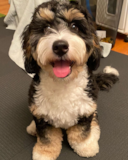 Mini Bernedoodle puppies for sale | Designer breed puppies for sale in San Juan, Puerto Rico
Playful ~ Friendly ~ Intelligent ~ Affectionate ~ Gentle
Puppy Love PR offers the best Mini Bernedoodle puppies for adoption in the country. At Puppy Love PR, our Mini Bernedoodle puppies are a cross between a Bernese Mountain Dog and a Miniature Poodle, both purebred. Like the Poodle and Bernese Mountain Dog, the Mini Bernedoodle pups impress with great learning skills and enchant with fluffy and cute looks. They are friendly, easy to train, and a treat to have around. Mini Bernedoodle pups are a moderately active dog breed that fits perfectly in an apartment setting as well as with families, single owners, and retirees.
Read more
BREED INFORMATION
MINI BERNEDOODLE
---
Temperament

Playful, Friendly, Intelligent, Affectionate, Gentle

Adult Weight
F1: 30-50 lbs/F1B: 20-30 lbs
Adult Height
13-22 in
Life Expectancy
12-15 yrs
Rating

5.0

( reviews)
| | |
| --- | --- |
| Maintenance | |
| Training | |
| Shedding | |
| Adaptability | |
| Active | |
Apariencia:
El Mini Bernedoodle es de tamaño pequeño a mediano, con un peso promedio de entre 30 y 50 libras para un F1, entre 20 y 30 libras para un F1B y entre 25 a 35 libras para un F2 con una altura promedio de 12 a 22 pulgadas. El hermoso Mini Bernedoodle tiene un cuerpo robusto, una cara dulce, ojos expresivos de forma ovalada, lindas orejas caídas, una nariz negra y una cola hinchada. Su pelaje es semi o totalmente hipoalergénico con un desprendimiento mínimo o nulo. Pueden variar de lisos a ondulados o rizados (dependiendo del lado de la familia que tome el Mini Bernedoodle: la raza madre Bernese Mountain Dog o la raza madre Miniature Poodle), y vienen en varias combinaciones de colores de negro, blanco y marrón.
Temperamento:
El Mini Bernedoodle es un perro tranquilo, educado y altamente entrenable con una personalidad alegre y un gran corazón. Los Mini Bernedoodles disfrutan de caminatas, natación, correr y cualquier actividad al aire libre que puedan hacer con su familia. Son grandes compañeros de aventuras; les encanta correr y jugar tanto como les encanta abrazar. Divertido, activo y aventurero, tranquilo, tierno y silencioso, el Mini Bernedoodle puede adaptarse a cualquier estilo de vida. Dulces, cariñosos, leales y devotos, se sabe que los Mini Bernedoodles forman lazos de por vida y aman a su familia humana incondicionalmente.
Familia y compañerismo
Este es un perro ideal para cualquier persona que busque compañía, ya que se adapta a todos. Son muy aptos para los niños y les va muy bien con otras mascotas de la familia. Aunque son felices en casa, muestran timidez, por lo que se fomenta la socialización y el ejercicio regulares.
Ejercicio
Cuando su perrito crezca por completo, necesitará al menos una hora de ejercicio todos los días. Es mejor dividirlo entre paseos y juego. Debido a su pelaje largo y grueso, es muy fácil que estos perros se sobrecalienten rápidamente. Cuando las temperaturas sean cálidas, asegúrese de encontrar un lugar fresco y sombreado para ejercitarlo. Si desea llevar a su perrito a caminar o nadar, con gusto lo acompañará. Después de todo, tiene un perro de montaña como su padre, por lo que se sentirá a gusto explorando el aire libre junto con su dueño.
Entrenamiento y socialización
Tanto el Bernese Mountain Dog como el Poodle son dos razas de perros muy inteligentes. Por lo tanto, puede esperar que el Mini Bernedoodle sea tan inteligente como sus padres, lo que hace que el entrenamiento sea un proceso simple. Tenga en cuenta que su perrito también puede exhibir una personalidad obstinada y de voluntad fuerte, por lo que se espera paciencia. Comenzar la socialización y el entrenamiento constante a una edad temprana garantizará un compañero educado.
F1B PETITE BERNEDOODLE PUPPY
3lb 2oz @ 5.4 weeks
Details