PHOTOS FROM OUR CUSTOMERS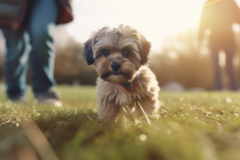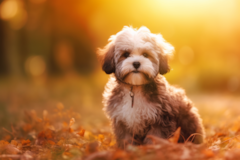 Shih poo puppies for sale | Shih poo in San Juan, Puerto Rico
Clever ~ Affectionate ~ Gentle ~ Loyal ~ Loving
Adopt a Shih Poo puppy at Puppy Love PR. Our lovely Shih Poo puppies are a doodle crossbreed of a Shih Tzu crossed with a Mini or Toy Poodle. Shih Poo puppies are like their parents in every wonderful way. They are lively, cheerful, and intelligent. Shih Poo puppies also grow into amazing adult dogs that get along well with everyone in their path. They are friends with kids, strangers, other dogs, and household pets. The Shih Poo puppies are a wonderful addition to any type of home. They make sweet companions for elderly couples, affectionate fur babies for single owners, and remarkable family dogs for owners with kids.
Read more
BREED INFORMATION
SHIH POO
---
Temperament

Clever, Affectionate, Gentle, Loyal, Loving

Adult Weight
8-18 lbs
Adult Height
8-17 in
Life Expectancy
10-15 yrs
Rating

5.0

( reviews)
| | |
| --- | --- |
| Maintenance | |
| Training | |
| Shedding | |
| Adaptability | |
| Active | |
Apariencia y aseo
Con su expresión alerta y sus pequeño cuerpo robusto, estos perros pueden tener el pelaje rizado de un Poodle o el pelaje largo y recto de un Shih Tzu. Al igual que ambas razas parentales, el Shih Poo puede venir en una multitud de colores sólidos que incluyen blanco, negro, gris, marrón y albaricoque o en un patrón de varios colores. El cepillado diario, así como las visitas al ''grooming'' cada 3 o 4 meses, es esencial para mantener el pelaje de tu perrito sin enredos.
Temperamento
Estos perritos son juguetones, amables y cariñosos, siempre felices de sentarse en tu regazo y dar un poco de cariño. Sus rasgos de comportamiento heredados de ambas razas parentales asegurarán un perrito inteligente y enérgico. Aunque son de naturaleza social, también pueden ser tranquilos y bastante tímidos con los extraños. La socialización adecuada a una edad temprana les dará la confianza que necesitan para sentirse cómodos en la mayoría de los entornos y con la mayoría de las personas.
Familia y compañerismo
Si bien son bastante inteligentes, estas adorables mascotas pueden no ser la mejor opción para las personas que son dueños de perros por primera vez; ya que su personalidad a veces obstinada puede hacer que sea difícil entrenarlos en la casa. Sin embargo, su naturaleza dulce y leal los convierte en compañeros ideales, especialmente para los jubilados que buscan un amigo de cuatro patas con quien pasar sus años dorados. Nada te hará sonreír tanto como tener un Shih-Poo rebotando en tu casa.
Ejercicio
La cantidad de ejercicio que requerirá variará según los rasgos particulares que herede de sus razas parentales. La mayoría de las veces necesitarán una cantidad moderada de ejercicio para la salud física y emocional. Una caminata diaria de corta a mediana longitud será adecuada para un perro de este tamaño. El ejercicio adicional se puede lograr fácilmente a través del juego permitiendo que su perrito juegue al aire libre en un área cercada.
Entrenamiento y socialización
Leal hasta el extremo y adorable, esta pequeña bola de amor pondrá a prueba incluso a los entrenadores de perros profesionales más pacientes y experimentados, por lo que los nuevos dueños de perros no deberían intentar asumir esa tarea. Contratar a un profesional capacitado es la mejor opción para este pequeño personaje independiente y cómico, ya que la perseverancia y la rutina es clave tanto en el entrenamiento como en la socialización. Presente a su perrito nuevas imágenes y sonidos además del entrenamiento profesional desde el principio para formar un perro bien redondeado y de buen comportamiento.