PHOTOS FROM OUR CUSTOMERS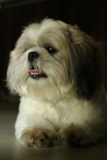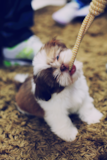 Shih Tzu Puppies for sale | On-the-spot Adoption in Puerto Rico - Islandwide Delivery
Affectionate ~ Courageous ~ Friendly ~ Sweet
Shih Tzu puppies are the perfect combination of beauty and brains. They have a long, soft, thick coat that is luxurious to the touch, and they possess a confident demeanor that helps them stand strong in the face of any challenge. These adorable dogs are known for their lively, charismatic personality that makes them great companions. Shih Tzu puppies have an intelligence level similar to many other breeds which makes them easy to train, very loyal and devoted to their owners. They are also very gentle with kids and have an amazing reputation as therapy pets.
Read more
BREED INFORMATION
---
Temperament

Affectionate, Courageous, Friendly, Sweet

Adult Weight
9-16 lbs
Adult Height
8-11 in
Life Expectancy
11-14 yrs
Rating

5.0

( reviews)
| | |
| --- | --- |
| Maintenance | |
| Training | |
| Shedding | |
| Adaptability | |
| Active | |
Originating in Tibet, the Shih Tzu or "lion dog" is a descendent of its ancestor the Lhasa Apsos and a gift to the Chinese emperors during the 7th century. The Chinese royalty bred Shih Tzu and when the British arrived during the 1800's, the breed made its way to England and then on to the United States. Always intended as a lap dog and affectionate companion, this is one of the most popular dogs today.
Appearance and Grooming
The Shih Tzu is often slightly longer than tall with a sturdy frame, a short muzzle and large dark eyes. It has a large tail that curls over its back and a long, silky double coat that comes in many colors: black, black and white, gray and white or red and white. Its coat needs daily brushing and combing to avoid tangles and knots, weekly bathing is also recommended. Regular trimming should be done every 6 to 8 weeks.
Temperament
The breed has a strong personality with numerous positive traits including affection, loyalty, and extroversion. Though he has an aristocratic demeanor with a bit of a stubborn streak the Shih Tzu doesn't tend to get into much trouble, and even when he doesn't obey very quickly.
Family and Companionship
These puppies become very attached to their new families, so it doesn't mind where it lives as long as it is with its owner. A lover of comfort and cuddling, they make a terrific pet for senior citizens. It can adapt easily to a small apartment or a large suburban or country home. Though, due to their size and sensitivity to outside elements they should never be left outside.
Exercise
The Shih Tzu is happy with short walks daily as it is not extremely active. It enjoys play sessions indoor with its favorite toys or running to the door to greet visitors. It can also enjoy play sessions in the backyard. Pay careful attention to hot temperatures as it is sensitive and needs to be protected against heat.
Training and Socialization
Shih Tzu is naturally docile and friendly, but needs early socialization and training as it tends to become shy at maturity if it is not properly socialized when young. Early socialization helps it to become a well-rounded dog.