PHOTOS FROM OUR CUSTOMERS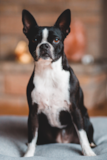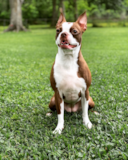 Boston Terrier Puppies for sale | On-the-spot Adoption in Puerto Rico - Islandwide Delivery
Affectionate ~ Friendly ~ Lively ~ Playful
Adopt a Boston Terrier puppy at Puppy Love PR, where the puppies have been socialized and nurtured since birth. This spunky and fun Terrier is the perfect family pet. Whether you live in a house, condo, or small apartment, they will fit your lifestyle. They love to play, but also love to snuggle up with their owners, giving them plenty of time for belly rubs and cuddles. If you are looking for a pet that can entertain itself and get along wonderfully with kids as well as other dogs (or cats!), this is the dog for you!
Read more
BREED INFORMATION
---
Temperament

Affectionate, Friendly, Lively, Playful

Adult Weight
10-25 lbs
Adult Height
15-17 in
Life Expectancy
10-14 yrs
Rating

5.0

( reviews)
| | |
| --- | --- |
| Maintenance | |
| Training | |
| Shedding | |
| Adaptability | |
| Active | |
The French Bulldog also affectionately known as, the Frenchie, Frenchie puppies, appeared during the 19th Century in Nottingham, England as a smaller version of the English Bulldog and is often referred to as the Toy English Bulldog. The purpose was to make a smaller, miniature, lap dog with similar characteristics to that of its ancestor.
Appearance and Grooming
With its dark eyes that are set wide apart, broad and deep muzzle, large bat ears, black or lighter nose and thick upper lips that hang down over the lower lips, this dog is supported by its strong and heavy bones. It has medium fine coat which is short and smooth. Its skin is loose and forms wrinkles around the head and shoulders. Its coat is brindle, brindle and white, cream or cream and white, fawn or fawn and white, fawn brindle, white, white and brindle, white and fawn, black, black and fawn, black and white, fawn and black, fawn brindle and white or gray and white. It also can have black, brindle or white markings or spots of colors. It needs little grooming and regular brushing as it is an average shedder. Your new puppy will also need regular nail clippings, ear cleanings and, more often, a face cleaning.
Temperament
This funny little puppy is known for being a class clown of sorts. They enjoy playing and entertaining their family, as well as cuddling and snoozing with their favorite person. They are sociable, sweet, and fun loving with a bit of a stubborn streak.
Family and Companionship
Bred for centuries as a companion, they are particular fond of people, and become extremely attached to their families. Though they make for the perfect companion, they are not the best choice for someone who works long hours or spends a lot of time away from home.
Exercise
This sturdy and spirited breed needs daily walks and plenty of active play to burn off energy, but do keep it away from the water as these dogs aren't known to swim well if a tall. They are sensitive to hot and cold weather and so they will need proper protection from the elements when playing outdoors.
Training and Socialization
These dogs are very smart, and training them is easy as long as you make it seem like a game and keep it fun. Their playful and sometimes stubborn nature is not ideal for training them for agility or obedience competitions, as they are free thinkers and spirits. Its temperament requires a calm, but firm, patient and consistent trainer who can manage a proper communication with it. Training session should be short and full of praise and rewards.
Tags: United States, Dog Breeds